Retail is experiencing an identity crisis, as e-commerce continues to influence the way consumers shop. And while brick and mortar retail is still quite healthy, this changing consumer behavior is affecting the way we design and program retail spaces. In our thought leadership series, Retail Perspectives, we will explore this changing landscape, discuss how retailers can (and should) react, and think about how to design for the future of retail.
By: Pearl Yeung-Navarrete, Julia Sigal, and Evan Allen
Illustration by Peter Judson
Honey, I Shrunk Our Stores: the Five Stolen Tenets of Urban Retail
As the prevalence and sophistication of online retail continues to escalate, and long-established retail brands are beginning to dwindle in the physical world, we are left wondering: is brick and mortar retail dead?
Right now, this is not even debatable; physical retail is here to stay for the foreseeable future. According to sales data recorded in 2017, 91% of sales happened offline and it is estimated that in 2025, more than 80% purchases will still happen in physical stores.1  It is clear, however, that the landscape of brick and mortar retail is changing, and large-format brands need to sharpen their tact and evolve their strategy to win in this highly competitive marketplace.2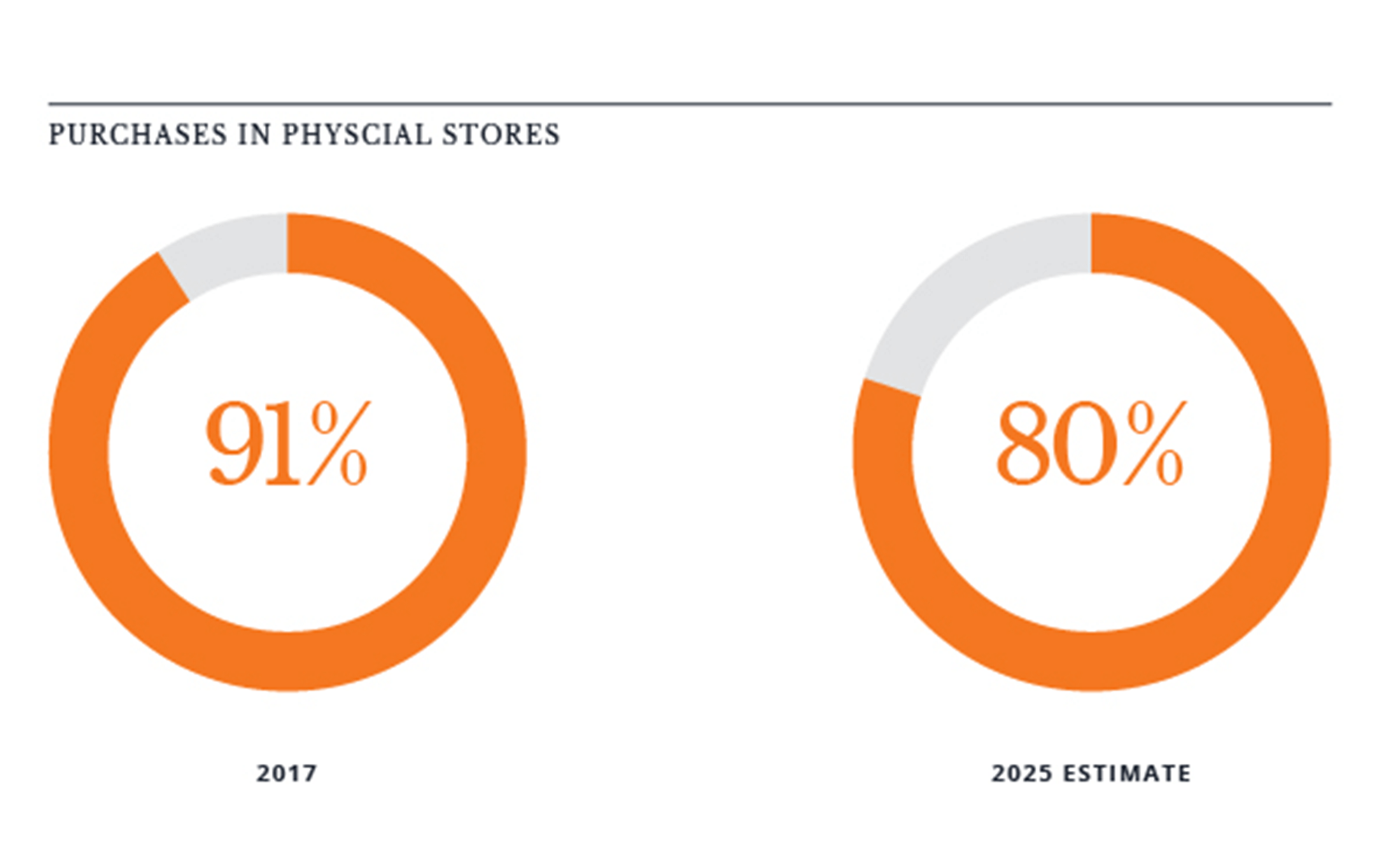 Source: Forbes, "Physical Retail Is Not Dead: Boring Retail Is," March 2018.
In order to offset traffic declines in suburban retail, where the effects of e-commerce are most severe, many large-format retailers are seeking to enter the urban market by employing a low inventory, small-format model. This strategic pivot has the benefits of higher density, higher income, and overall higher foot traffic. Shrinking their stores opens up new opportunities for growth but also introduces new challenges. Adapting to a smaller format means more than just reducing your footprint and rethinking how you allocate space for reduced merchandise. The shift is really about creating new experiences and environments that are uniquely designed for a particular locale. It isn't merely about saving on real estate costs, it's about capturing a new and diverse set of shoppers. This requires an active transformation of mindset: focus less on sales per square foot and more on impact per square foot.
But successful, petite urban formats are not a revolutionary concept. In fact, brands inside and outside the retail category have been doing this successfully for decades. So, as retailers consider the move into these denser areas, the goal should be less about creating something from scratch and more a matter of identifying the time-tested, 'Original Gangster' (OG) tactics, and adapting them to your unique brand.
We've outlined five of our top tenets for urban store integration which draw upon the tried-and-true methods of urban idols that have come before.
Tenet 01: Low Inventory, High-end Experience
Curate your products to simplify your store and elevate your brand 
High-end retail is typified by highly curated, low-inventory stores staffed with knowledgeable sales experts intended for aspiring and admiring as much as purchasing. The thoughtful and intentional nature of a curated product selection feels personal without being personalized, elevating the experience without overwhelming shoppers.
The OG: Luxury brands like Chanel, Prada, Dior and their peers, have kept less inventory on the floor in order to make the experience feel elevated, like everything on display is one of a kind. In doing so, consumers feel that they are viewing exclusive merchandise, reducing choice paralysis and increasing their likelihood of purchasing.

Source: AlixPartners Home Delivery Survey, November 2017
In the urban world, small format shops have already begun mirroring this low-inventory display method. When done well, a low-inventory layout not only solves the issue of limited space but it also alludes to this luxury shopping experience, inspiriting the brand in the process. On the flip side, while consumers crave this luxury-type experience, they have also been conditioned to expect convenience and free, two-day shipping (or faster), which can have expensive logistics and delivery ramifications. A robust "last-mile" logistics plan becomes paramount to ensure a seamless and transparent end-to-end experience; a beautiful front of house experience must be supported by an agile back of house plan.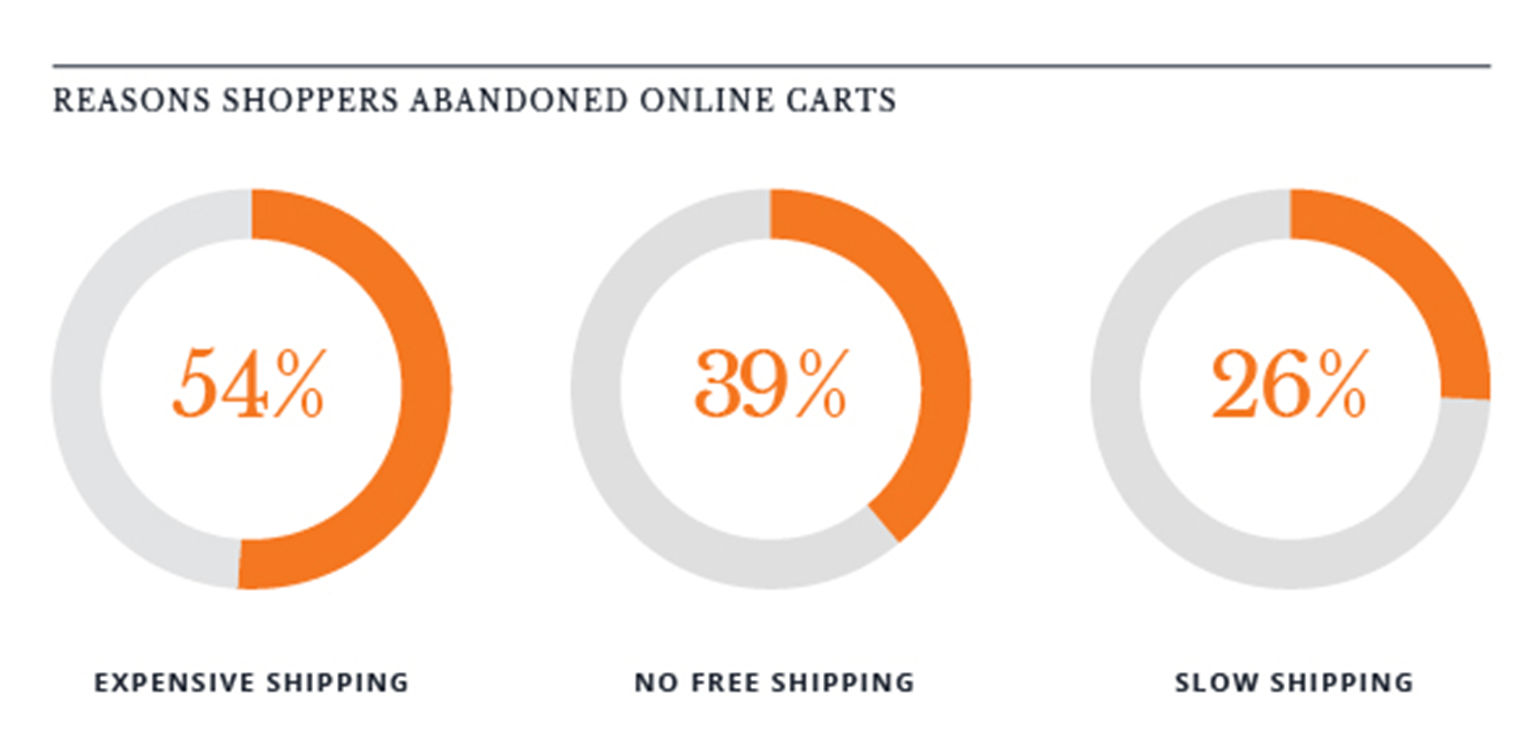 Source: Temando, "2017 The State of Shipping in Commerce," 2017.
The Modern Idol: Glossier, a beauty essentials brand, has done just this in their brick and mortar "showrooms". While their products are not particularly expensive for the beauty category, their stores are designed to create an elevated shopping event. Known for their "clean, no-nonsense packaging" beloved by famous influencers, Glossier focuses on creating a high-end, highly curated, and lush environment for fans to feast on. In keeping with their notion of selling only the essentials, their shelves are lined with just enough product for consumers to determine the right one, nothing more and nothing less.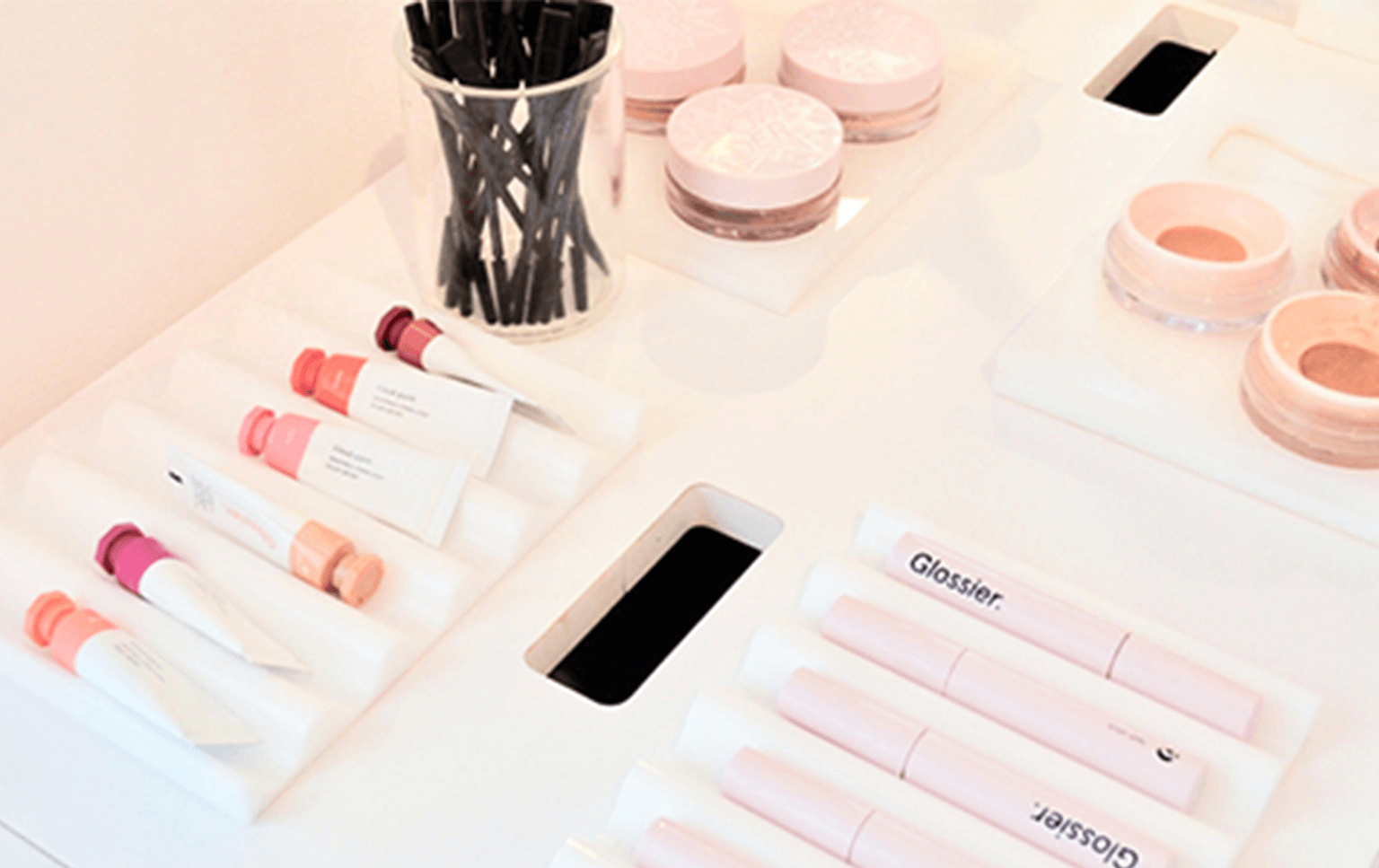 Source: Fahrenheit 212
The Burning Question:
If your store could only sell 10 things, what would they be?
Tenet 02: Storytelling Pop-Up
Use your store as a billboard to display the values of your brand  
Sales per square foot has long been the metric used to determine the success of a retail storefront, and while sales are important, they are not the only metric by which we measure success today. It's becoming necessary to think about driving impact beyond a single transaction by measuring the level of influence per engagement. Over time, consumers have begun to judge brands with the same criteria that they do people, looking at cultural values. Physical space then becomes the interface in which a brand's ethos comes to life.
The OG: Pop-up shops were the pioneers of creating a branded story, marrying a highly engaging physical experience with the manifestation of cultural values in a single space. Short run by design, popups were a way to intrigue consumers with a 'here today, gone tomorrow' concept. In the early 2000's, Russ Miller introduced the concept to LA with Vacant, "an exhibition store" and later opened the first pop-up space in New York City with Dr. Martens. Inherently, pop-ups could be viewed as a loss leader given the high capital setup required, designed to lose money in hopes of future returns, and in some cases they were. However, telling a brand story doesn't have to be at odds with selling product. In fact, when done well they should support each other, creating a profitable business today while building business and brand equity for tomorrow.
The Modern Idol: Companies that are not traditionally consumer product brands are now leveraging the concept of pop-ups. Take Pantone for example: the brand opened a cafe to create a "multisensory" experience allowing consumers to taste their colours. Patrons can choose from a menu offering Chocolate Brown 19-1625 ice cream, a Vibrant Orange 16-1660 juice, or a Lemon 12-0221 puff. Creating a marketing space that facilitates fun and meaningful moments, leading to beautiful Instagram posts, will turn consumers into evangelists.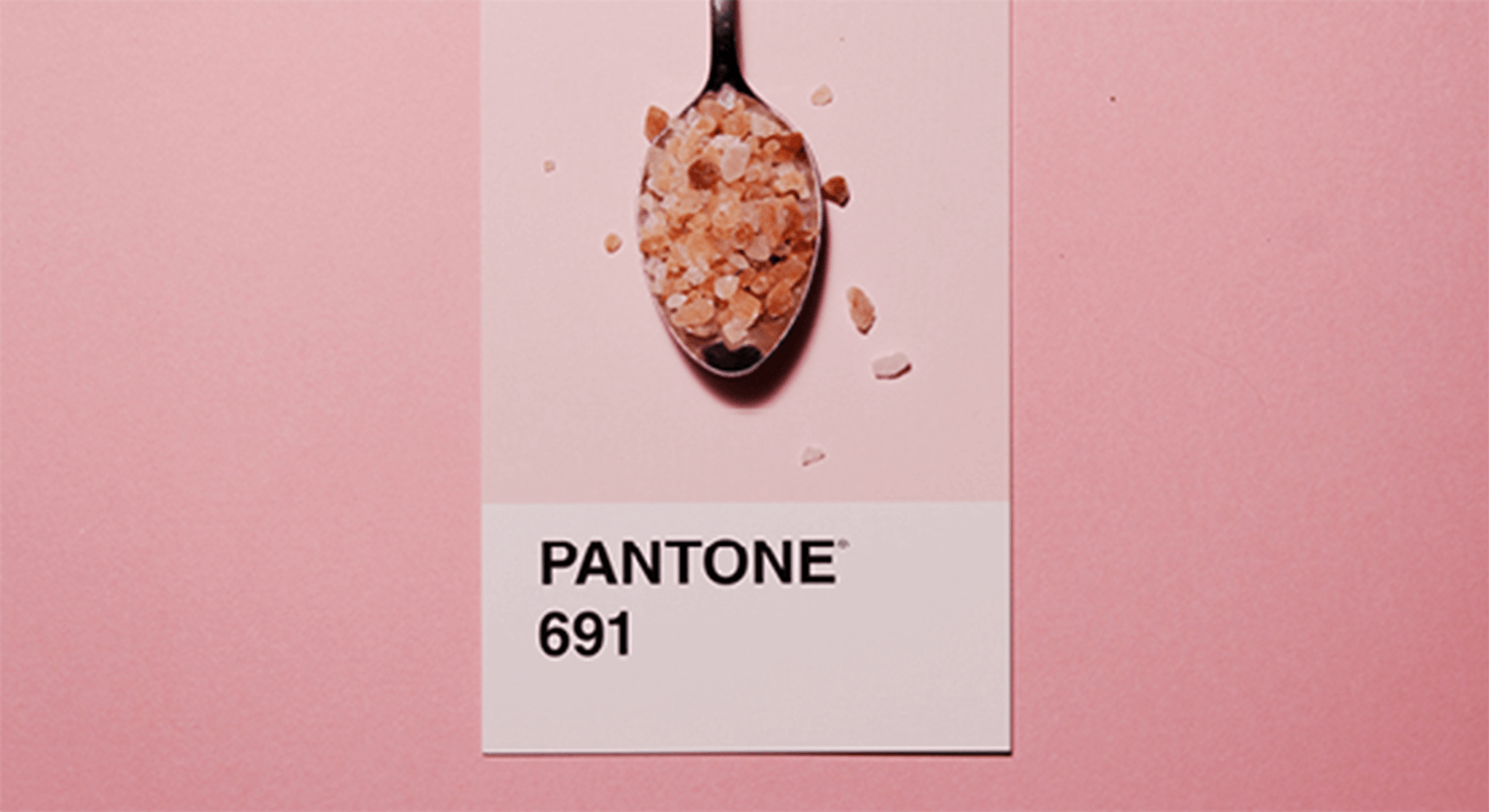 Source: Autri Taheri via Unsplash
The Burning Question:
If you could express your brand story in one word, one image, or one sentence, what would it be? 
Tenet 03: Ever Evolving Experience
Like a museum exhibit, change up your stores and make them feel consistently fresh 
Cities are characterized by their high energy, movement, and constant change. This fast-paced lifestyle has shortened consumers' attention spans and created higher expectations for brands as new competition is always on the horizon. Consumers expect retailers to update their product feed as often as their social media feeds. As such, brands moving into urban spaces should anticipate the need for rapid, continuous evolution. This evolution helps keep a brand's perspective fresh, and brings in new consumers and repeat visits. TJMaxx has found a successful model by refreshing their merchandise and layout on a weekly basis with continuous product shipments. This adds the excitement of the treasure hunt and increases frequency of visits.
The OG: Museums have embodied this tenet for decades, maintaining static displays while circulating in new collections to draw repeat audiences. The concept of ever-changing exhibits creates a natural feeling of scarcity, and "limited-time" pressure encourages consumers to act quickly and frequently. Applying this notion to brick and mortar retail suggests that brands could consistently reinvent themselves, keeping them on their toes, staying fresh in consumers' minds, and giving them the opportunity to innovate and stay ahead of competition.
The Modern Idol: Recently purchased by Macy's, Story is a single, brick and mortar store tucked into the bustling streets of Manhattan's Chelsea neighborhood.3 Story was created with the mission to reinvent retail by adopting an approach whereby it has the "point of view of a magazine, changes like a gallery, sells things like a store." Every few months the store will shut its doors and reinvent itself, reopening each time with a fresh take on a new topic ranging from 'Fresh', 'Love', and 'Work & Space'. Each time Story opens its doors with a new display it introduces new products, layouts, partnerships and attractions, drawing new and repeat consumers for the ultimate surprise and delight experience.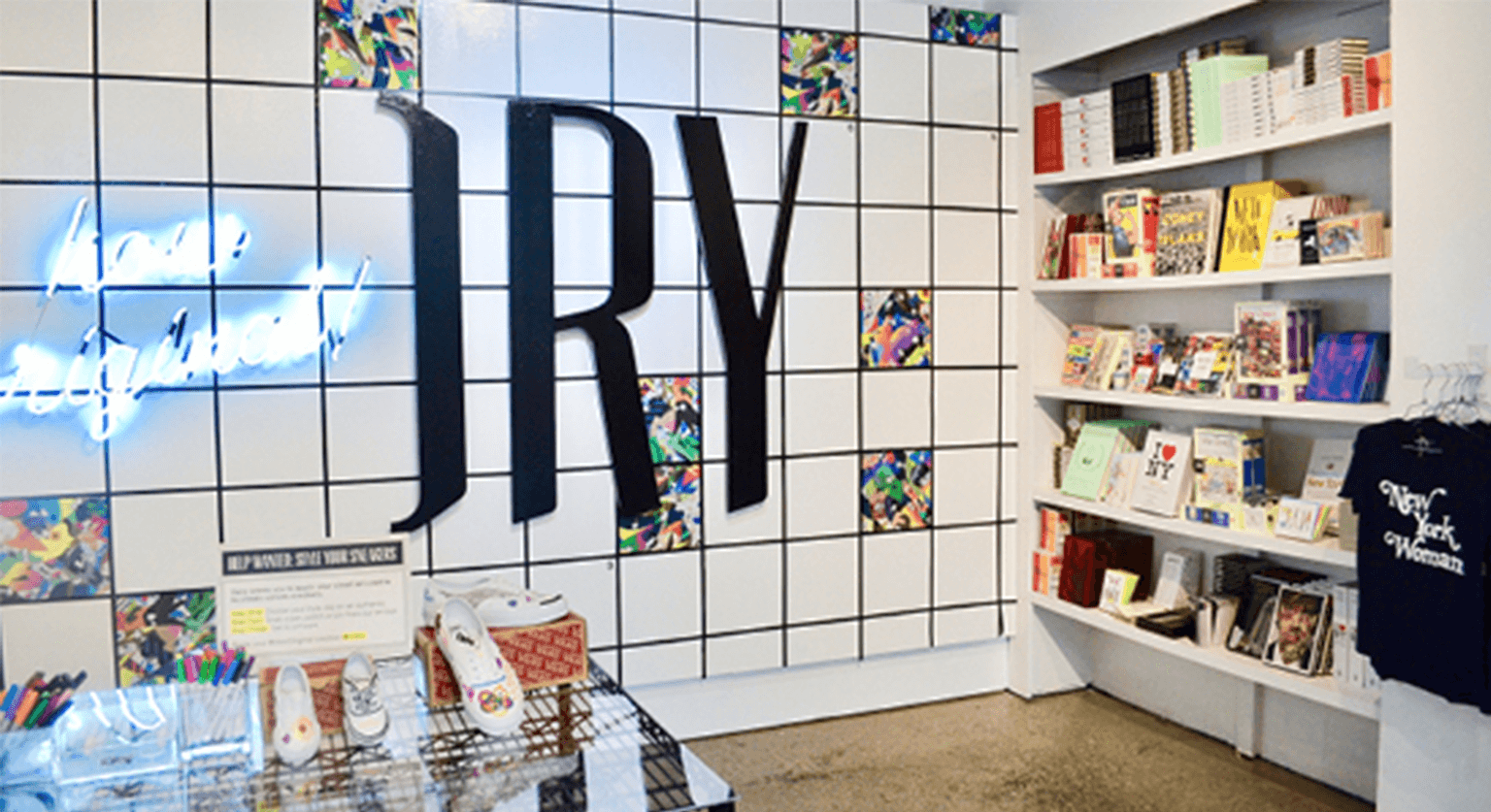 Source: Fahrenheit 212
The Burning Question:
What would you do differently if you changed your brick and mortar concept every quarter? How could this flexibility add value to your business?
Tenet 04: Maximize Time and Space
Think beyond your hours of operation to create new business models 
Online retail is advantaged with the ability to take on an infinite array of possibilities for change. Able to change prices, landing pages, and information based on consumer preferences or market demand, e-commerce retailers can act nimbly at minimal cost. Conversely, brick and mortar is seen as less flexible by nature. The walls of the store are rigid, the displays are bulky and the hours of operation are restricted by the cost of labor. But if we look to other categories we can see that there are actually a number of ways to utilize time, space and selection to increase the flexibility of the store in ways that are uniquely suited for brick and mortar.
The OG: Coffee shops have found ways to multiply their offerings, selling food and drinks while simultaneously opening up their doors for communal work space. Even before free WiFi, coffee shops offered a nook for quiet reading. By increasing the consumers length of stay, these shops doubled down on loyalty and repeat purchases. With the rise of freelancers, Spacious, a startup in NYC and San Fransico, has taken this a step further. They recognized that foot traffic within restaurants around the city is limited to discrete meal times. During the rest of the day, the restaurants sit empty—an unutilized space in a city where square feet are a rare and valuable commodity. Spacious saw an opportunity to create a marketplace for multi-use space during off-peak hours. Allowing freelancers to rent space outside of popular meal times lets restaurants fill empty tables while simultaneously selling food and beverages during this time, thus generating a new stream of income.
The Modern Idol: A/D/O is a warehouse turned multi-use creative space in Greenpoint, Brooklyn. Across different day parts it acts as a restaurant, casual workspace, exhibition space, design store, and events venue. Members can work and lunch during the day before it transitions to an event space, classroom, and dining room in the evening.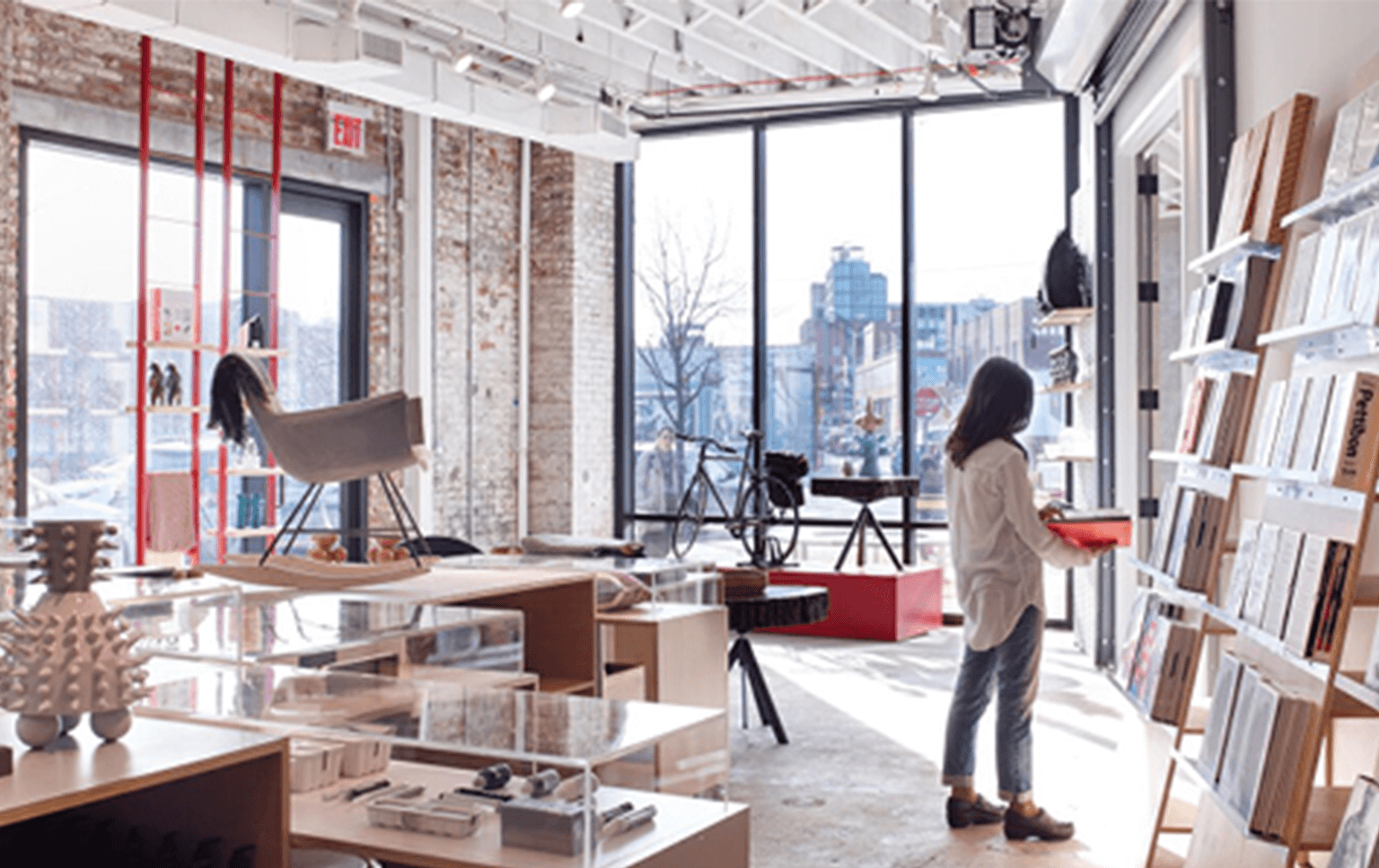 Source: A/D/O
The Burning Question:
What are some adjacent or analogous categories with overlapping needs and brand values that could complement your business?
Tenet 05: Leverage Local Love
Blend in with the neighborhood to establish yourself as a local 
The idea that 'one size fits all' is a thing of the past. Retail has seen an explosion of cookie cutter branded retail stores pop up at every corner and it has left consumers feeling corporate fatigue. Branded chains opening in urban communities often generate eyerolls as consumers believe that these corporate entrants erode the local flavor. So what can we do to combat this? The concept of "acting local" is becoming more and more important as retailers think about succeeding in small urban footprint formats. Retailers who have been able to create a uniquely local feel in their execution are winning the brick and mortar battle in urban markets where consumers want an authentic vibe.
The OG: Local farmers markets have long represented the heart and spirit of their communities. Daily or weekend setups bring locals (and tourists) together to support one another in their work and lifestyle. From the personalities to the products, farmers markets are the original example of local flavor, cultural exchange, and celebration.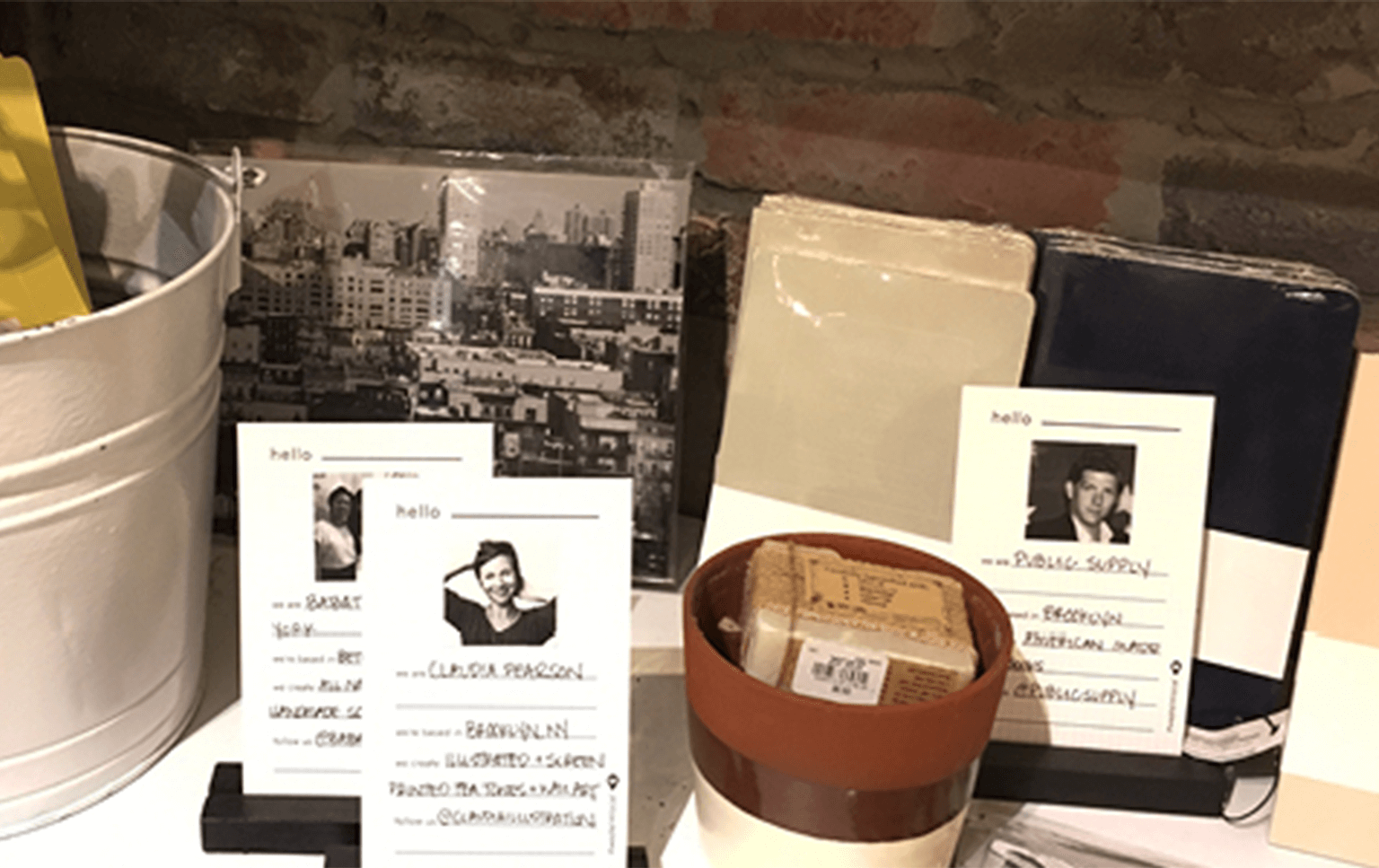 Source: Fahrenheit 212
The Modern Idol: Earlier this year, West Elm expanded its LOCAL program to launch West Elm LOCAL Experiences, which allows consumers to connect with local artists through interactive experiences. Consumers sign up for workshops that provide them the experience of working alongside local craft makers, coming away from the adventure with a new skill that reflects the artist's craft. West Elm continues to celebrate local artisans by selling and displaying their goods in the store. Currently the LOCAL program reaches over 100 stores and showcases more than 8000 products.
What works in suburbia is very different from what works in cities as consumers tend to seek different things. People are drawn to a city or suburb because of the particular lifestyle it offers them and they expect a certain type of experience within each city and each neighborhood. The ultimate objective is to celebrate the pride of a city while being authentic to one's unique brand identity. This may sound daunting, but to an urban consumer it brings reputability and trust to a retail footprint creating lasting loyalty.
The Burning Question:
Who are you selling to and what makes them unique?
---
The strategy to win in the urban retail battle is achievable and there are businesses and brands that have been refining the key tenets for decades. These tactics are tried, tested, and true and can be adapted successfully with a modern perspective. With these tenets in mind, brands need to challenge themselves to find the recipe that best suits their strategic ambitions as they enter the urban realm.
1. Forbes "Physical Retail Is Not Dead: Boring Retail Is", Mar 2018.
2. Digital Commerce 360, U.S. e-commerce sales grow 16.0% in 2017, Feb 2018.
3. CNBC, Macy's acquires New York concept shop Story, May 2018