Fierce competition and consumer power grow at parallel paths. Traditional means of differentiation—the kind based on product or service features alone—are no longer enough. In other words, purely functional attributes will fail to impress customers into sticking around for long. To win the battle for customers at a time when there is a seemingly unlimited range of options available, the charge is to seek new sources of competitive differentiation. Customer experience (CX) is now the best lever that companies can use to compete.
But what does quality CX look like in your business? From meeting consumer expectations to assessing organizational capabilities, this will be determined by many factors. Read on for ways to think about how to define quality CX in your business to start unlocking its full potential.
First, what does 'customer experience' mean?
CX is not the same as customer satisfaction, nor is it the same as customer service. CX is also not the result of any one initiative. For instance, while quality CX inspires customer loyalty, exceptional experiences are rarely the result of customer loyalty programs alone. To further complicate matters, not all quality experiences are the same in every business or across all industries. The marketplace influences what types of interactions customers already demand and which experiences will lead to competitive differentiation.
Put simply, CX is the sum of all interactions a customer has with a brand over time. On an individual touchpoint level, products and services lead to exceptional experiences when they include features and interactions that customers deem acceptable to use, offer some level of preference and inspire joy. Finding the right balance in these attributes—and knowing which of these will offer the most value for your organization—requires deep understanding of customer needs specific to your business.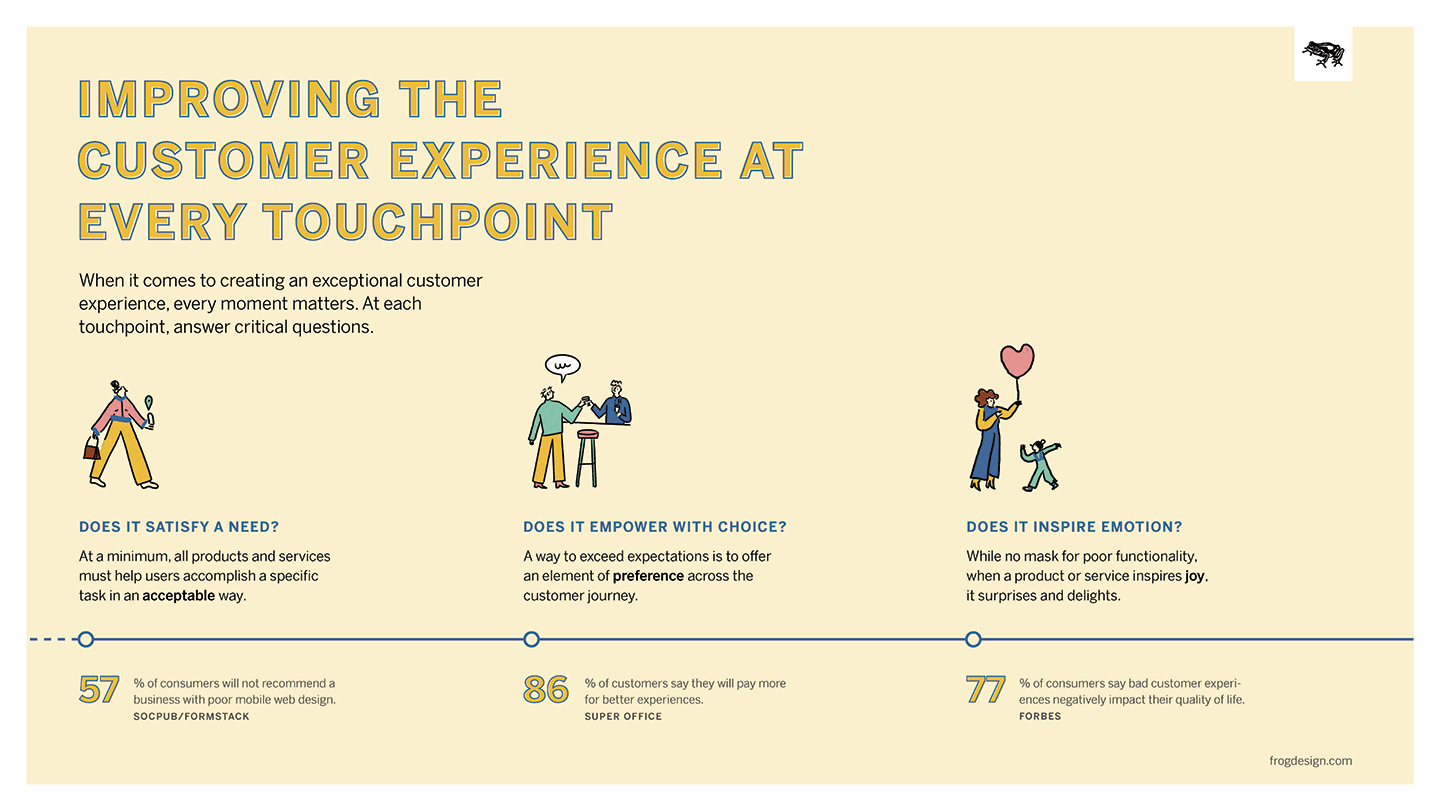 All this is to say that there simply is no one-size-fits-all solution. At frog, we use what we call a 'Relationship Framework' to define and evaluate a company's CX. It prizes three factors above all as a guide for businesses looking to create meaningful, sustainable relationships across the customer lifecycle. These include:
Breadth: The frequency of interactions across a customer's experience.
Depth: The extent to which emotional, higher order needs and desires are being met.
Consistency:The connectedness and cohesiveness of a brand's ethos through the interactions it creates with customers.
To learn more about these three factors and how they contribute to exceptional CX, see the course Design Thinking: Customer Experience on LinkedIn Learning taught by frog Executive Strategy Director Geoffrey Schwartz.